Canadian company based in Toronto.

No duties, no importing charges!

We will beat any advertised price.

Canadian Dollars Pricings

Lowest price and Service Satisfaction Guaranteed

On-Time Shipments

Free Art Design service and Free Sample.

1- Custom made any item from scratch, any shape any size.

2- Source any item that is not listed in our site.
Featured Items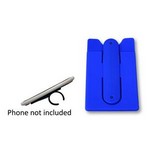 Kickstand Smartphone Wallet (Super Saver...
Great promotional product which easily attaches to a smartphone. It will turn it into wallet/phone kickstand for secure storage of debit, credit cards, license and dollar bills. It is made with sturdy...
CAD$1.07 - CAD$1.85